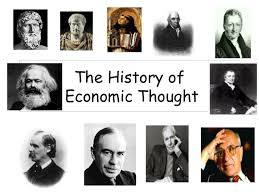 History of Economic Thought
How has Economics become a rich academic discipline; Schools of Economic Thought and their comparison; Contribution of Great Minds of Economics to Schools of Thought; Adam Smith, David Ricardo, J.S. Mills, Classical School of Economic Thought and decline of Classical Economics; Karl Marx and his critique of classical economics; William Jevons, Carl Menger, Alfred Marshall, and Leon Walras: Neoclassical Economic Thought and its critiques; Institutional and Historical critics of Neoclassical Economics; John Maynard Keynes and the development of modern microeconomic thought; The Great Economists: How their ideas can help us today; and synthesizing the course contents and learning.
About This Course
ECO 310: Without a course in history of economic thought students may not be able to fully understand or appreciate the richness of economics as an academic discipline. The depth and breadth of the discipline can remain unexplored and unknown. Without such a course, economics will appear as ahistorical, apolitical, acultural. Critiques of great minds in economics have given rise to different schools of economic thought. Include your long course description here. The long course description should contain 150-400 words..
Course Objective: To make students (i) familiar with great thinkers of economics and their respective major contributions in enriching the discipline of economics; and (ii) capable in recognizing economic perspective and the basis of classification of economic contributions of great minds by schools of thought such as classical, Marxian, neoclassical, institutional, Keynesian, and structural; (iii) trace, explore and identify contemporary economic policies to these schools of thought; and finally (iv) identify, assess and synthesize streams of thought, theories and critiques for drawing policy lessons for developing countries such as Bangladesh.
Requirements
Add information about the skills and knowledge students need to take this course.
Course Staff

Staff Member #1
Biography of instructor/staff member #1

Staff Member #2
Biography of instructor/staff member #2
Frequently Asked Questions
What web browser should I use?
The Open edX platform works best with current versions of Chrome, Edge, Firefox, Internet Explorer, or Safari.
See our list of supported browsers for the most up-to-date information.
Question #2
Your answer would be displayed here.